Jiroft
Last Modified:

10 Jan 2013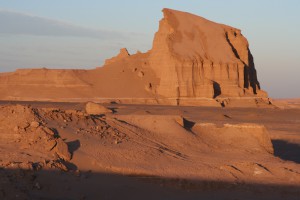 In 2001 a rich tomb was systematically looted at the Iranian site of Jiroft. Artefacts from this looting were trafficked out of Iran and several individuals involved were sentenced to death.
In around 2001, a tomb, rich in decorated artefacts, was discovered at Jiroft, in Iran's southern province of Kerman (AFP 2005; CHN 2004a; Osser 2004). There is some debate as to the exact date of discovery (Muscarella 2005: 175), with Lawler (2003a: 973) and Covington (2004: 3) both suggesting that discovery was in 2000 rather than 2001, but it that organised and systematic looting by local residents broke out soon after in the surrounding area, with some reports that individual families were allocated specific 'plots' to dig (CHN 2004b; Osser 2004).
In 2002, Iran's Islamic Police moved in to stop the illicit digging (CHN 2004a, 2004b; Covington 2004). However, by then it was estimated by some that up to 100,000 objects may have been removed, although it is not certain exactly how many were actually lost (Muscarella 2005: 177).
The types of artefacts typically associated with Jiroft include portable objects made of chlorite, a soapstone-like mineral occurring in a range of colours (Covington 2004), and to a lesser extent other materials such as 'bronze, copper, terracotta and even lapis lazuli' (CHN 2004a). The artwork on the artefacts include 'a bewildering variety of plants, buildings, and half-animal, half-human figures including strange scorpion men and kneeling women between horned animals' (Lawler 2003b: 973).
While some artefacts attributed to Jiroft were later seized in other parts of Iran, such as Yazd (CHN 2006), many more were likely illegally exported, including to the United Arab Emirates and the United Kingdom (CHN 2005a). Iran moved to call for repatriation of artefacts believed to have originated in the Jiroft area, and among other actions circulated "four comprehensive books on Jiroft artefacts for major European museums and urged  their directors to send back all similar artefacts to Iran" (Payvand's Iran News 2004). In addition, Iran's Ministry of Intelligence worked alongside Interpol to try to recover artefacts attributed to Jiroft from suspected smugglers (CHN 2005a). In 2003, 80 Jiroft artefacts were found to be on sale in London for £600,000 (CHN 2004a; Osser 2004), and similarly in 2002 vases believed to be from the plundered area were on sale in Drouot in Paris, allegedly consigned for sale by several Paris-based dealers (CHN 2004a). An object discovered on sale at Sotheby's auction house in London (vendor a French institute) was repatriated after legal proceedings involving the Iranian Cultural Heritage and Tourism Organisation(Doole 2004). In 2005, following a successful repatriation claim to the UK government by the Iranian government, a ceremony was held at the National Museum in Tehran, to mark the return of 118 Jiroft artefacts from London (CHN 2005b).
Signifying the gravity with which the Iranian authorities are taking the looting at Jiroft, two men convicted of trafficking antiquities were sentenced to death in 2004 (CHN 2005a); the first time the death sentence has been used in Iran for antiquities trafficking (Harris 2004).
There has been ongoing debate as to the historical and archaeological significance of the culture discovered at Jiroft, with some suggesting that the material culture could represent a civilisation at least as important as ancient Mesopotamia (CHN 2006; Covington 2004; Lawler 2004). However, Muscarella (2005) has pointed out that, because of the clandestine nature of the removal of the majority of the artefacts associated with Jiroft, including the possibility of a considerable proportion of fakes, any archaeological assertions stemming from the research of any of the looted (or faked) artefacts is problematic. However, some authorised archaeological excavations have also taken place in the region (Covington 2004: 3).
The Iranian Cultural Heritage News Agency (CHN) reported in 2005 that looting had finally ended in Jiroft after three years – fuelled for so long by the relative poverty of local residents who were tempted by the promise of financial return from digging up the artefacts (CHN 2005c). In December 2007, following an appeal to an earlier court case, the Iranian government secured the right of ownership for eight artefacts believed to have been excavated illegally from the Jiroft region, which had been on sale at a Mayfair gallery in London (Chechi et al. 2011).
References
AFP (2005), '5,000-year-old smuggled artifacts return to Iran', Yahoo News (updated 09/03/2005) <http://news.yahoo.com/news?tmpl=story&cid=1514&u=/afp/2005…>, accessed 14/03/2005.
Chechi, Alessandro, Contel, Rapheal, and Renold, Marc-Andre (2011), 'Jiroft collection – Iran v. The Bakarat Galleries Ltd.', Platform ArThemis (Geneva: Art-Law Centre, University of Geneva)  <http://unige.ch/art-adr>, accessed 3/08/2012
CHN (2004a), 'Iran Presses UK to Probe Jiroft Ransacked Artifacts', Iranian Cultural Heritage News Agency, 14/07/2004.
— (2004b), 'Public Plunder of Jiroft Artifacts Resumes', Iranian Cultural Heritage News Agency, 31/08/2004.
— (2005a), 'Iran's New Raid against Jiroft Smugglers Ordered', Iranian Cultural Heritage News Agency, 13/06/2005.
— (2005b), 'Ceremony for Handing Jiroft Artefacts to Iran National Museum', Iranian Cultural Heritage News Agency, 10/03/2005.
— (2005c), 'No More Illegal Excavations in Jiroft', Iranian Cultural Heritage News Agency, 11/02/2005.
— (2006), 'Stolen Ancient Goblet of Jiroft Found in Yazd', Iranian Cultural Heritage News Agency, 29/04/2006.
Covington, Richard (2004), 'What was Jiroft?', Saudi Aramco World, 55 (5), 2-7.
Doole, Jenny (2004), 'In the News', Culture Without Context, 15 (Autumn), 8-20.
Harris, Lucian (2004), 'Iran sentences Jiroft smugglers to death', The Art Newspaper, November 2004, 5.
Lawler, Andrew (2003a), 'Looting Savages New Site', Science, 302 (7), 974-75.
— (2003b), 'Jiroft Discovery Stuns Archaeologists', Science, 302 (5647), 973-74.
— (2004), 'Iranian Dig Opens Window on New Civilisation', Science, 304, 1096-97.
Muscarella, Oscar White (2005), 'Jiroft and "Jiroft-Aratta". A review article of Yousef Madjidzadeh, Jiroft: The Earliest Oriental Civilisation', Bulletin of the Asia Institute, 15, 173-98.
Osser, Edek (2004), 'London and Paris markets flooded with looted Iranian antiquities', The Art Newspaper, January 2004, 9.
Payvand's Iran News (2004), 'Iran Presses UK to Probe Jioroft Ransacked Artefacts', Payvand's Iran News, 14/07/2004.