Nimrud Earrings
Last Modified:

07 Mar 2016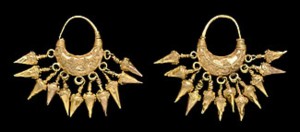 In 2010 Christie's New York returned a pair of Neo-Assyrian gold earrings to Iraq.
At the request of the FBI, in December 2008 Christie's New York withdrew a pair of gold earrings that had been advertised for sale as lot 215 in the catalogue for the forthcoming 9 December auction (Aref 2008). The Christie's website entry for the earrings advised that they had been acquired by the previous owner prior to 1989. However, working in collaboration with Iraqi experts, the FBI had established that the earrings were part of the 'Nimrud' treasure, a collection of Neo-Assyrian (9th–8th centuries BC) gold and jewellery discovered in 1989 during the official excavation of two royal tombs underneath the palace of Ashurnasirpal II.
The earrings were returned to Iraq in 2010 (ICE 2010).
References
Aref, Jane (2008), 'Iraq bids to stop Christie's sale of ancient earrings', Christian Science Monitor, 4 December. http://www.csmonitor.com/World/Middle-East/2008/1204/p07s02-wome.html, accessed 3 February 2014.
ICE (2010), 'ICE returns artifacts and antiquities to Iraq Embassy. Assistant Secretary Morton returns six cultural items to Iraqi ambassador Sumaida'ie', press release, 25 February (Washington DC: US Immigration and Customs Enforcement). http://www.ice.gov/news/releases/1002/100225washingtondc.htm, accessed 3 February 2014.