Wang Chuzhi Tomb Panel
Last Modified:

03 Nov 2016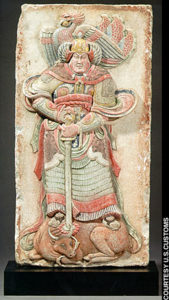 Marble relief panel stolen from Chinese tomb in 1994 recovered from Christie's New York in 2001. 
In June 1994, thieves used dynamite to blast their way into the tenth-century Chinese Five Dynasties tomb of Wang Chuzhi (Xiyanchuan, Hebei Province) before removing several painted marble relief panels (Ruiz 2000; US Customs 2001). On 21 March 2000, one of the panels was advertised for sale in a Christie's New York Fine Chinese Ceramics, Paintings and Works of Art auction catalogue, whereupon it was seized by US Customs in response to a request made by the Chinese authorities. The panel had been recognized as being identical in material, technique, coloration and style to remaining panels found in situ when the tomb was excavated officially in 1995. The stolen panel had been consigned by M&C Gallery of Hong Kong and appeared in the Christie's catalogue with a price estimate of $400,000–500,000. Surprisingly, the catalogue offered accurate provenience: it identified the panel's relationship to those remaining in the tomb of Wang Chuzhi. The panel was returned to China on 23 May 2001.
References
Ruiz, Christina (2000), 'Shame on Christie's', Art Newspaper no 103, 6.
US Customs. (2001), 'US Customs Service returns rare 10th century burial sculpture to China', press release, 23 May (Washington DC: US Customs Service). http://www.cbp.gov/hot-new/pressrel/2001/0523-04.htm, accessed 6 February 2014.