Brodie and Yates speaking at Expert Conference "Fostering European Cooperation for Heritage at Risk", Dubrovnik, 26–28 Feb
26 Feb 2020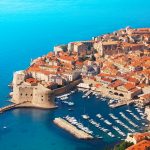 Drs Neil Brodie and Donna Yates will be speaking at a conference hosted by the Croatian Presidency of the Council of the European Union and the Ministry of Culture of the Republic of Croatia. They will discuss the results of their recent European Commission-funded report focused on the illicit trafficking of antiquities in Europe.
More details about the event are available here: https://eu2020.hr/Events/Event?id=192
"The topic of the conference aims to generate discussion on an expert theoretical level about the methodology of research and assessment of all types of risks in order to facilitate the decision-making process in preservation and use of cultural heritage, and the optimal use of resources.
The topics of each panel will be focused on the discussions on methods of identification, analysis and targeting of risk priorities, and especially of a better understanding of potential risks, importance of monitoring and adaptation processes.
The speedy recovery from damages, sustainable preservation after restoration and identification of possibilities of participatory management through stimulating cooperation of all stakeholders will also come into focus."