Brodie keynote speaker at Archives and Records Association Conference, Manchester, 1 Sep
31 Aug 2017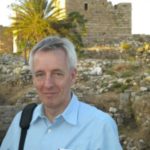 The theme of this year's ARA conference is 'Challenge the Past, Set the Agenda'.
Dr Brodie's keynote, held on 1 Sept from 9:30 to 10:20 am, is entitled: "Scholarly Engagement with Unprovenanced Ancient Manuscripts":
There is increasing concern in the UK and Republic of Ireland about the risk of theft, destruction or illicit disposal of cultural heritage, though much of the focus to date has been in the antiquities space, not documentary heritage; at the same time, we see increasing collaboration between the archives, records-management and conservation professions with partners in other information-knowledge and heritage spaces, such as archaeology. Dr Brodie will suggest cultural appraisal ideas and novel regulatory and ethics approaches that we may be able to apply to our own professional and individual situations.
More information about the even is available at: http://conference.archives.org.uk/keynote-speakers