Christos Tsirogiannis identifies rare Sardinian idol and Christie's pull it from New York auction
28 Nov 2014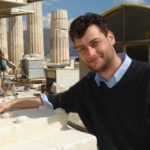 Dr. Christos Tsirogiannis, Research Assistant in Trafficking Culture, on Friday 21 November identified in the photograph archive of a dealer in illicit antiquities a rare marble Sardinian idol, due to be auctioned by Christie's as lot 85 in their antiquities auction in New York on 11 December. The idol was the most expensive object in the auction, estimated at $800,000-1,200,000 and is part of the Steinhardt collection of antiquities. The idol was presented intact in the Christie's catalogue, but Tsirogiannis identified the same antiquity, broken in six pieces and missing part of its head, in an image in the confiscated photograph archive of the Italian antiquities dealer Giacomo Medici, who has been convicted for illegal export (smuggling), receiving stolen goods and conspiracy.
Tsirogiannis immediately notified the American and Italian judicial authorities. The case was presented on the website of the Association for Research into Crimes against Art (ARCA), 'Looting Matters' and 'Nord on Art' (the latter presenting both the Medici and Christie's images of the idol). A later post by ARCA records various requests within Italy for the antiquity's return.

On 27 November Christie's withdrew lot 85 from the electronic catalogue available on their website.