College of Social Sciences Scholarship Competition
02 Nov 2012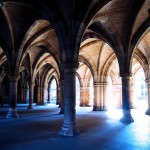 The University of Glasgow's College of Social Sciences' Scholarship Competition for 2013 has opened. These are fully funded scholarships for PhD study for students from any country, covering fees, living costs and an annual fieldwork grant. Information is available via the University of Glasgow website about opportunities to obtain funding to carry out PhD research in a range of areas.
This scholarship competition is a great opportunity for any researchers who are interested in studying for a PhD alongside the Trafficking Culture project. As we are based within the School of Social and Political Sciences, which is itself based within the College of Social Sciences, any potential doctoral researchers interested in working with us (pending terms and conditions of the scholarship) would be eligible to apply.
Anyone interested in applying for a grant through this funding stream to work with Trafficking Culture should contact the team to discuss their proposal. Deadlines for applications to the scholarship competition is Friday 1st February 2013.