Donna Yates giving a public lecture in Kathmandu on 14 July
11 Jul 2015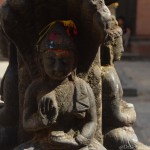 The event, hosted by Kathmandu Metropolitan City and ImPACT! Productions, will take place at the Nepal Tourism board at 10:30 until noon.
The talk is entitled: Stolen Gods: Criminological Approaches to the Illicit Trade in Antiquities from the Trafficking Culture Project
Donna will present an overview of international illicit trade in antiquities from source to market. Using case studies from Cambodia and India and the work of the Trafficking Culture project, she will discuss challenges to effective cultural property policy development and enforcement at various points in the antiquities smuggling chain. Turning our attention to Nepal, Yates will discuss the specific difficulties in protecting sacred art and how criminological research may help us better understand these issues.
All are welcome to attend but it is preferred that you note interest on this facebook page: https://www.facebook.com/events/1650820048483648/