Enrol in our Antiquities Trafficking summer course at Victoria Uni, Wellington (Nov–Dec)
20 Sep 2016
This exciting new course is his course is open to the public. You don't need the listed prerequisite courses and you don't need to be a student at Victoria University (or even a student), they will accept a range of backgrounds and experiences.
Taught at an advanced undergrad level, we will study antiquities trafficking networks from source to market using a range of tools from Criminology, Archaeology, Heritage Studies, Law, Anthropology, and more. This is a great way for someone interested in art and antiquities crime topics to test the waters before a more advanced degree, or someone working in the general sector to add a bit of specific knowledge to their tool kit.
Please see: http://www.victoria.ac.nz/courses/crim/330?year=2016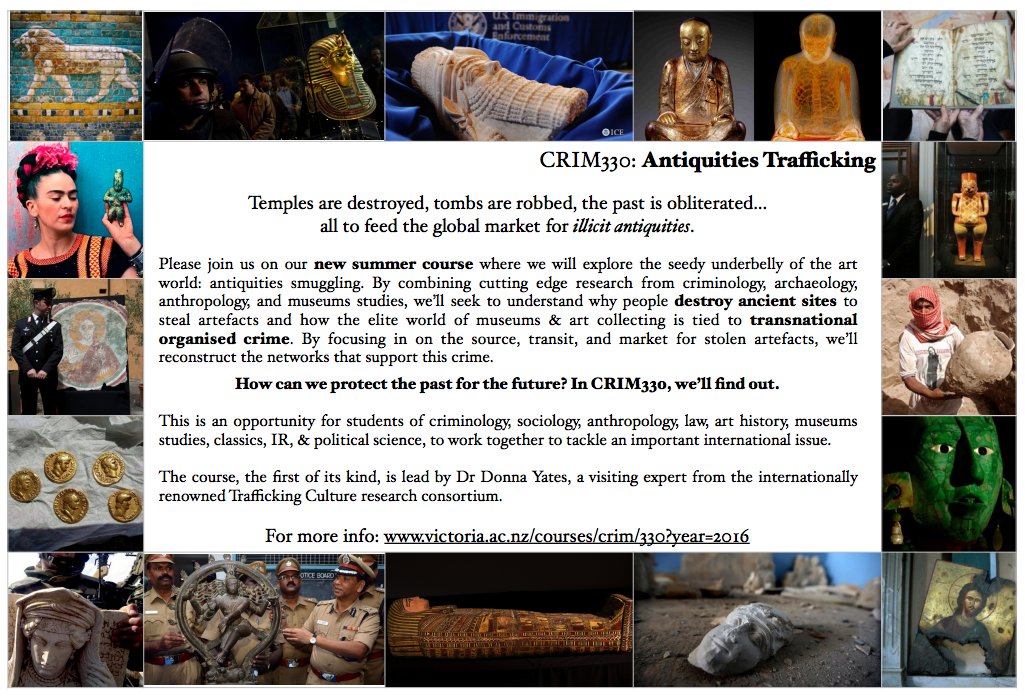 Special Topic: Trafficking Antiquities
The looting of archaeological sites and the transnational illicit trafficking of cultural property is tied to a range of pressing issues including globalization, identity, and social justice, as well as criminological concerns with white-collar and organized crime. In this course we will study antiquities trafficking networks from source to market. The course is taught by a visiting expert from the internationally renowned Trafficking Culture research consortium, with guest lectures from other specialists in the field. It will be of interest to students in criminology, sociology, anthropology, law, art history, museum studies, international relations, political science, classics, and associated disciplines.