Donna Yates in Belize to study trafficking of Maya artefacts
16 Jul 2014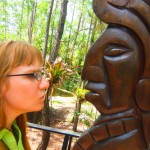 Donna Yates will be in Belize until 29 July conducting preliminary research on the looting and trafficking of Maya antiquities. We hope this will be the start of a fruitful partnership with Belize on this topic. Today she leaves Belmopan for the San Ignacio area and plans to spend much of next week in the northern part of the country near Orange Walk Town and along the Mexican border.
You can follow her progress on her blogs: Anonymous Swiss Collector and Grotesque Stone Idols.
Donna would love to meet with any researchers or stakeholders in Belize who are interested in this issue. She is available via email to set up informal meetings.