Donna Yates in Nepal next week to observe heritage security
06 Jul 2015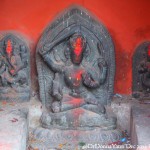 Project researcher Donna Yates will be in Kathmandu from 9 until 19 July to observe heritage site security measures following the country's April earthquake.Yates will be learning from stakeholders, officials, and NGOs about their work on heritage protection. This is part of her greater focus on the theft, trafficking, and sale of Sacred Art.
Donna welcomes contact from anyone in Nepal who is working on this issue.
Photographs that Donna took of Kathmandu Valley sites in December 2014 and January 2015 can be found on the Stolen Gods website.