EAA annual meeting in Helsinki
23 Aug 2012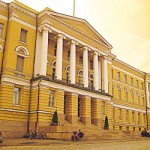 Suzie Thomas from the Trafficking Culture team will be at the EAA annual meeting (29th August to 1st September) in Helsinki next week.
She is involved with co-organising the session 'Managing the Archaeological Heritage: Perceptions and Realities' on Thursday 30th August with colleagues from Scotland, England, Poland and Austria, and of course will be talking more about the research of Trafficking Culture during the session.
Making the most of her time in Finland, Suzie will also be taking time to interview heritage professionals from the National Board of Antiquities and the Adopt-a-Monument scheme based in Tampere, and is meeting with a pan-European fine art transportation company as part of the wider research project. She is even sailing to Tallinn in Estonia for a day to meet with a expert on organised crime in the Baltic region.
If you are attending the EAA meeting, do try to find Suzie to have a chat. We are all keen to network at events such as this.