Introducing Jessica Dietzler
13 Aug 2012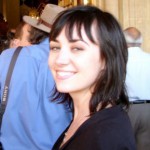 We are really happy to welcome Jessica Dietzler, who has been awarded the Illicit Antiquities and Global Criminal Markets Scholarshipat the Scottish Centre for Crime and Justice Research, funded by the University of Glasgow College of Social Sciences. This doctoral research will complement the work of Trafficking Culture, and her findings will feed directly into the broader research programme.
Jessica previously studied at the University of Wisconsin-Milwaukee, where she was awarded a BA Anthropology and Art History in conjunction with a Certificate in Ancient Mediterranean Studies. She also worked for many years in the physical security industry, as well as an archaeologist and field supervisor in Cyprus, and brings with her a mix of professional and research experience.
The working title for her PhD is 'Trafficking Cultural Objects: A Comparative Study of Systems of Control in Transnational Criminal Markets', and she will be looking to draw important conclusions from her research to inform future policy proposals to help regulate the traffic in cultural objects.
All of the team are delighted to have her join us, and we look forward to working closely with her over the coming years.