Neil Brodie and Donna Yates attend UK Govt Summit for the Protection of Cultural Heritage
30 Oct 2015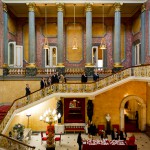 Along with other "leading archaeological and political figures", Drs. Brodie and Yates were invited to Lancaster House in London for discussion hosted by the Department for Culture, Media, & Sport as well as the Foreign & Commonwealth Office. On the agenda was the formation of a new cultural property protection fund administered by the UK Government.
Dr. Brodie made the observation that the reconstruction and restoration of destroyed cultural heritage happens after protection measures fail. He urged those involved in the steering of this fund to work towards the protection of heritage before conflict and disaster.
More information about the summit can be found on the UK Government Website.