Networked seminar for the University of the Highlands and Islands
24 Jan 2014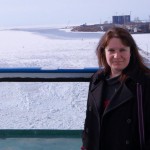 On Friday 7th February, Suzie Thomas is presenting a networked seminar as part of the University of the Highlands and Islands (UHI) Archaeology Seminar Series.
The seminar, taking place from 1pm until 2pm, is titled 'Understanding the international trade in trafficked cultural objects'.
Suzie's presentation will be broadcast via Video Conferencing at the following UHI locations:
Orkney College, Kirkwall,

Shetland College, Lerwick

Lews Castle College, Stornoway

Perth College, Perth

North Highland College, Thurso

Inverness College, Inverness

Fort William College, Fort William

Moray College, Elgin
To find out whether it is possible to attend the seminar in one of the UHI venues, please contact Esther Renwick (Esther.Renwick @ shetland.uhi.ac.uk) by Friday the 31st of January.