SCCJR Working Lunches
19 Apr 2013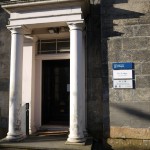 The Scottish Centre for Crime and Justice Research, in which Trafficking Culture is based, recommences its Working Lunch series of seminars next week. These are a regular opportunity, usually on Wednesdays between 12.30 and 2pm, at the Meeting Room, Ivy Lodge, 63 Gibson Street, Glasgow.
The Working Lunches offer an opportunity to hear about and discuss current criminological research from within SCCJR itself and from further afield. The next few Working Lunches are as follows:
24 April International Law and the Fight against Impunity: From Nurenberg to Today (Prof. Mark V. Vlasic, Senior Fellow & Adjunct Professor of Law, Georgetown University)
1 May Criminal Justice and Health and Wellbeing (Sally Wyke, Institute of Health and Wellbeing) Professor Sally Wyke, Deputy Director of the IHW, will be joining us for an open discussion to explore the potential for future collaboration and research activities. Further information about Sally's current work is available at: http://www.gla.ac.uk/colleges/socialsciences/ourstaff/sallywyke/
15 May Scottish Justice Matters (Mary Munro, Scottish Consortium for Crime and Criminal Justice) Mary is coming to discuss the SCCCJ's new publishing venture, Scottish Justice Matters. For further details, please see: http://www.scccj.org.uk/index.php/scccj-publications/scottish-justice-matters/
29 May TBC
12 June People with Learning Disabilities and the Criminal Justice System (Jayne Porter, Autism Network Scotland) Jayne Porter is Network Adviser at the Autism Network Scotland, a government-funded organisation which supports the development of a better understanding of autism (see: www.autismworkscotland.org.uk). Jayne is currently developing an autism specific Criminal Justice Network across Scotland and is keen to develop links with SCCJR and explore the possibility of future research collaborations.
26 June Violence in Young Offender Institutions for Young Women (Dr Anke Neuber, University of Kassel) SCCJR Visiting Fellow, Dr Anke Neuber, will be discussing her ongoing qualitative longitudinal study of young women in Young Offenders Institutions in Germany.
Tea, coffee and biscuits are provided. All are welcome, however, the Meeting Room has a limited capacity, and therefore we ask potential attendees to contact the convenor, Dr Susan Batchelor (susan.batchelor@glasgow.ac.uk), in advance of the Working Lunch to ensure their place at the seminar.