Screening of 'Dance of the Maize God' at Hunterian Museum, Glasgow, 3 Dec
17 Nov 2015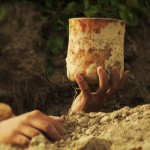 The Hunterian Museum and the Trafficking Culture Project will be screening the film Dance of the Maize God by Night Fire Films.
Dance of the Maize God explores the destruction to Maya archaeological sites at the hands of looters searching for beautiful, valuable pottery. Donna Yates and Simon Mackenzie will also be there to discuss antiquities trafficking and the Maya region and answer questions from the audience.
The screening is on 3 December at the Hunterian Museum, University of Glasgow. It is free to attend but we ask that you register for the screening here.