Trafficking Culture presenting at Art & Law Conference, Cambridge, 22–23 June
19 Jun 2015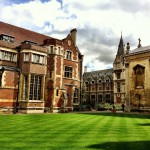 Neil Brodie, Donna Yates, and Emiline Smith will be presenting at the Art & Law: Art in Peril Interdisciplinary Conference being held at Pembroke College, Cambridge, on 22 and 23 June. They will be speaking in the "Lines that Divide" session.
Emiline's paper is entitled Cross-Border Cultural Property Crime in Hong Kong.
Neil and Donna's paper is entitled Cultural Property Protection Law: Retrospect and Prospect.
Further information about the conference is available at: http://artandlawconference.co.uk/ and via Twitter.