Trafficking Culture speaking at University of Chicago, 16 Nov.
06 Nov 2015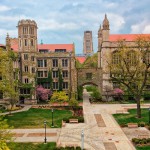 "Toward a Framework for Critical Engagement with Crime Control Policy in Trafficking Cultural Objects" will be presented by Simon Mackenzie, Neil Brodie, and Donna Yates.
This public talk, hosted by the Neubauer Collegium for Culture and Society is associated with the project The Past for Sale: New Approaches to the Study of Archaeological Looting
The talk will be from 12:00 until 1:30 pm on 16 November at 501 S. Woodlawn Avenue, Chicago.
We will review some of the project's work over the last four years and develop various components of a crime prevention framework to advance thinking about controlling the illicit market. Regional ethnographic case study evidence gathered by the project will be reviewed and used to explore some of the regulatory challenges.  Using contemporary examples of looting and conflict, the speakers will reflect on reasons why current crime prevention policy fails in this area, and propose improved approaches.
More information is available here.
The flyer is available here.