Training in Beirut on law enforcement and illegal trade of cultural objects
10 Jan 2017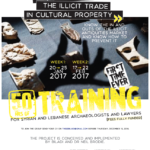 Neil Brodie will be spending January and February working with Lebanese NGO Biladi to offer a training course on international law and law enforcement as regards the theft and illegal trade of cultural objects.
The primary aim of the course is to improve understanding among Lebanese and Syrian culture heritage professionals about the evidential and procedural requirements of European and North American law enforcement when dealing with cases of trafficked cultural objects. The secondary aim is to improve national and international communication and cooperation in this area. The intended outcome is to improve rates of detection, recovery and return of stolen and illegally exported cultural objects, thereby deterring further theft and illegal excavation. Syrian participants will be drawn from the DGAM in Syria and from universities in Europe. Lebanese participants will include DGA staff, lawyers, and university academics. The course will extend over two one-week sessions in Beirut, from 20-25 January and 17-22 February. Presentations and interactive sessions will be provided by visiting international experts in cultural heritage law and law enforcement under the overall supervision of Neil and his Biladi colleague Joanne Farchakh Bajjaly.
The course enjoys the support and approval of the Lebanese DGA, the Lebanese office of UNESCO and the Syrian DGAM. It has been made possible by a generous grant from the Royal Norwegian Embassy in Beirut and is accredited by Blue Shield.
Neil and Joanne both feel strongly that the illegal trade is demand-led, and believe that this course will empower cultural heritage professionals in Lebanon and Syria to take more effective action against the market in Europe and North America.