WE'RE HIRING: Part -Time Lecturer in Trafficking Culture, University of Glasgow
05 Nov 2018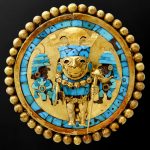 Part-time, teaching-focused position funded for at least 5 years!
We are happy to announce that the University of Glasgow is seeking a Lecturer to contribute to teaching master's-level topics in Antiquities Trafficking and Art Crime at the University of Glasgow. This position is part time (60%) and is funded for at least the next five years, and will be based in the subject of sociology/criminology, specifically in the Scottish Centre for Crime and Justice Research.
Please see: https://www22.i-grasp.com/fe/tpl_glasgow01.asp?newms=jj&id=97155&newlang=1
Applicants must:
Have a PhD in a related discipline (criminology, sociology, archaeology, heritage studies, law, etc)
Have demonstrable expertise in some aspect of antiquities trafficking, art or heritage crime, heritage repatriation, art or heritage preservation and destruction, or cultural property law
Have a strong interest in online teaching and distance learning, preferably with online teaching experience
Be comfortable in a digital environment using online tools and helping students do the same
Be based in Glasgow (visas can be supported for this role in many circumstances)
Interviews for this position will be in mid January and we would like the candidate to start quite soon after that, although provision can be made for a particularly strong candidate. Glasgow has a vibrant student and research community focused on this topic and we hope that this will form the basis for future research collaboration.
Please email Donna Yates for more information about this position.