Call For Papers: Special Issue on Trafficking in Cultural Objects for the EJCPR
02 Nov 2012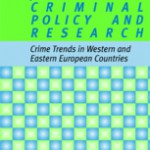 European Journal on Criminal Policy and Research is a peer-reviewed international criminology journal with a special interest in transnational organized crime. It is run by Editor-in-Chief Ernesto U. Savona (Professor of Criminology, Università Cattolica del S. Cuore- Milan Director of TRANSCRIME (Joint Research Centre on Transnational Crime) and Managing Editor Dr. Stefano Caneppele (stefano.caneppele@unicatt.it).
Each year thematic special issues of the EJCPR are published. These special issues are devoted to innovative topics in the field of criminology and criminal justice, and in 2014 the Trafficking Culture team at the University of Glasgow will be guest editing one with a focus on 'trafficking cultural objects'. For criminologists, this is something of a niche area of study, and more attention has tended to be paid to other types of transnational criminal trade. The Trafficking Culture research programme has been established to advance the evidence base in this area, as well as to undertake theoretical work and comparative study of the trafficking of cultural objects as contrasted with other types of transnational illicit commodity trade. The guest editors' aim for this special issue is to gather together a collection of papers which inform this topic. The field of 'illicit antiquities' studies has been built around contributions which cross disciplines. Lawyers, archaeologists, art world professionals, anthropologists and criminologists have all played a part in explicating the issues and debating the solutions. We therefore welcome contributions to this special issue from writers in any discipline, although papers should consider the parameters of EJCPR as a criminal policy and research publication.
Original evidence-based research and/or analytical manuscripts are invited on any aspect of crime in relation to the problem of trafficking in cultural objects, and the topic is widely framed for the purposes of this publication to include all aspects of the trade in illicit antiquities, including socio- economic, cultural and criminological contexts, and beyond these core topics, comparable crime policy problems which may offer transferable solutions to these fields of illicit entrepreneurial activity.We would also be pleased to hear from those with expertise in this field who would be prepared to act as peer reviewers for the special issue.
The deadline for first draft submissions is Friday 28 June 2013.
Decisions about the outcome of the submission accompanied with detailed reviews will be sent out to authors by Friday 4 October 2013.
Should the submissions require revisions these should be completed and submitted by Friday 31 January 2014.
It would be helpful if the manuscripts do not exceed 7,000 words including Figures, Tables and References. For information on other aspects of the EJCPR manuscript format please see the Instructions for Authors on the journal's website above.Submission Process
Manuscripts should be submitted through an electronic system. In order to complete the review process, authors are asked to submit their articles online at http://www.editorialmanager.com/crim, following the Instructions for Authors.
Please circulate this call to anyone who might be interested. For formal or informal inquiries about any aspect of the process please contact the guest editor Prof Simon Mackenzie.