Donna Yates giving a free public lecture for the Glasgow Explorathon: 25 Sep
18 Sep 2015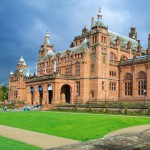 Held at the Kelvingrove Museum, Donna's lecture is part of the Explorathon's Museums Unlocked event.
Donna is speaking on the 25th of September from 3 until 3:30pm. The event is free and un-ticketed: all are welcome to attend. There are several other Glasgow researchers speaking before Donna, but you are free to come in and out as you please.
Donna's talk is entitled Stolen Gods: Researching the illicit trade in looted antiquities. In it she will discuss the work of the Trafficking Culture Project and how criminology can be used to understand the illicit trafficking of antiquities, in this case stolen idols from South Asia.