Internet Archaeology Special Issue
18 Mar 2013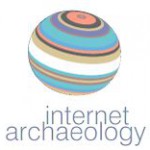 Suzie Thomas and Stuart Campbell, a Friend of Trafficking Culture, have co-edited a special issue of the online peer-reviewed journal Internet Archaelogy.
The special themed issue is titled 'Portable Antiquities: Archaeology, Collecting and Metal Detecting'. Many of the papers stem from a conference held in 2010 at Newcastle University and the Great North Museum: Hancock, which was co-organised with the Council for British Archaeology. Speakers included archaeologists, curators, collectors and metal-detector users, and offered a forum for discussion.
The conference looked primarily at issues concerning jurisdictions within the British Isles, particularly England and Wales, Scotland and the Isle of Man. The Special Issue published today builds on this with contributions commenting on France and South Africa, and with response pieces from individuals from both the UK and the USA. Papers also include an article co-authored by another Friend of the project, Mark Harrison.
Although the main corpus of papers require subscription, the issue also contains Open Access content (specifically the Editorial and the Commentaries), in order to contribute to Internet Archaeology's wish to move towards a fully Open Access model. There is a low cost subscription to the content that is not open. This amounts £19.50 for permanent access to the whole issue (i.e. 7 articles) or £7.50 per article. Subscriptions can be made via the Internet Archaeology website.
The content of Internet Archaeology is archived by the Archaeology Data Service, based at the University of York.