Simon Mackenzie to speak at Milan Conference
09 Jan 2013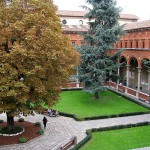 On 16th January, Professor Simon Mackenzie will be speaking at a conference on Prevention and Fight Against Illicit Trafficking in Cultural Property: The National and International Dimension.
The conference, held at the Università Cattolica del Sacro Cuore in Milan, is organised in partnership with the International Scientific and Professional Advisory Council of the United Nations Crime Prevention and Criminal Justice Programme, the Fondazione Centro nazionale di prevenzione e difesa sociale-CNPDS, and the Centro Studi 'Federico Stella' sulla Giustizia penale e la Politica criminale of Università Cattolica del Sacro Cuore.
Simon will be presenting a paper titled 'Trafficking in Cultural Property: an Empirical Overview'.
Jessica Dietzler, who is researching for a PhD with the Trafficking Culture project, will also be attending. If you are attending this day conference, do feel free to have a chat with Simon or Jessica about the project as a whole and their own research strands.
UPDATE: There is now an opportunity to hear Simon's presentation through our Data section.