Dos Pilas Stela 17
Last Modified:

30 Aug 2023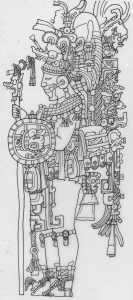 Maya sculpture that was looted and partially recovered; some portions remain missing.
Dos Pilas is a Late Classic Maya city in the Petexbatún region of Guatemala's Petén department. The history of the site is closely linked to the conflict between the major Maya cities of Tikal and Calakmul. Control of Dos Pilas shifted between these two rivals multiple times before the close of the Maya Classic period.
Numerous stone stela were erected at Dos Pilas, many of which were "in pristine condition" when first encountered by archaeologists, despite the harsh jungle environment (Robertson 2013: 19). Dos Pilas Stela 17 was 8 feet tall (Robertson 1972), and depicted a male ruler in profile holding a sceptre, a round shield, and a "Holmul style" maize god back rack (FAMSI, n.d.).
When visiting the site in July 1971, Merle Greene Robertson discovered that the stela had been mutilated within, she believed, the previous few days (Robertson 1972: 154). In a memoir written in 2010, Robertson indicated that it was possible that the looters were at the site when she arrived and were either hiding or had gone down river as she approached (Robertson 2013: 18). She records that the Stela 17 had been cut into three pieces and "thinned", with the sculpted section of the front of each piece removed with a power saw. The "thinning" process was meant to reduce the weight of the sellable portions of the stela, which one contemporary looter likened to shaving off pieces of cheese (Reinhold 1973). Robertson's team immediately reported the theft in Sayaxche, and six police officers were dispatched to investigate (Robertson 2013: 18). 
Most of the looted sections of Dos Pilas Stela 17 were recovered by Guatemalan police not long after Robertson reported them stolen. They were detected at the port of Puerto Barrios, in a crate labeled "marble samples" (Reinhold 1973). The crate was addressed to a storage warehouse in Manhattan, but "neither the shipper nor the intended recipient was identified on the crate" (Reinhold 1973). 
When it was recovered, the front of Stela 17 was found to have been broken into seven pieces, and the bottom portion, depicting a captive, was not present. To this date, it has not been found. It is unknown if the missing portion was destroyed in the looting process or trafficked to the market separately.
[Image: "Drawing of figure on Dos Pilas Stela 17″  By Linda Schele. Schele Drawing Collection, LACMA, Object Number SD-7301"]
Works Cited
FAMSI (n.d.) The Linda Schele Drawings Collection. http://research.famsi.org/schele_list.php?_allSearch=Dos%20Pilas&tab=schele&title=Schele+Drawing+Collection. Accessed on 28 August 2023.
Reinhold, Robert (1973) Traffic in Looted Maya Art is Diverse and Profitable. The New York Times, 27 March. https://www.nytimes.com/1973/03/27/archives/traffic-in-looted-maya-art-is-diverse-and-profitable-traffic-in.html. Accessed on 28 August 2023.
Roberson, Merle Greene (1972) Monument Thievery in Mesoamerica. American Antiquity. 37(2): 147–155.
Robertson, Merle Greene (2013) The Further Adventures of Merle. The PARI Journal XIII(IV): 1–7. https://www.mesoweb.com/pari/publications/journal/1304/Merle3.pdf. Accessed on 28 August 2023.