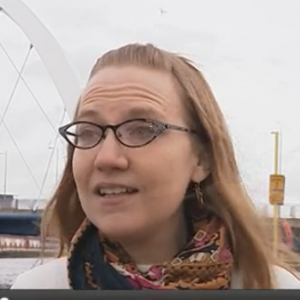 Donna Yates is a Lecturer in Antiquities Trafficking and Art Crime at the Scottish Centre for Crime and Justice Research at the University of Glasgow.
The goal of her research is explore the relationship between communities, governments, the law, and the operation of transnational criminal markets and to help develop regulatory mechanisms for controlling the illicit antiquities trade. She conducts field-based research to better understand the implementation of regulation and the behaviours, norms, and values of the stakeholder communities that are governed by it.
Most recently Dr Yates has been studying the theft, trafficking, and security of Sacred Art. This includes art from Latin American churches and she has expanded this focus to include temple and shrine sites in South Asia, particularly Nepal and India. Information about sacred art theft can be found on her website StolenGods.org.
She completed her PhD in Archaeology at the University of Cambridge in 2012 looking at the legal, social, and professional construction of archaeology and heritage in the rapidly changing social and political climate of modern Bolivia. Her first degree was in Archaeology at Boston University with a focus on Mesoamerica. She went on to complete an MPhil in Archaeological Heritage and Museums at Cambridge. Her MPhil thesis documented the market for illicit South American antiquities at US-based auctions.
She was awarded a Leverhulme Early Career Fellowship (2012–2015) and a Core Fulbright Award (2012–2013) to study the trafficking of Latin American cultural property.
She has conducted trafficking or archaeology fieldwork in Belize, Guatemala, Ecuador, Greece, Mexico, Nepal, and Bolivia.
Teaching
Dr Yates is the lead educator for the University of Glasgow's Postgraduate Certification in Antiquities Trafficking and Art Crime: a suite of three masters-level online courses. She is also the lead educator on the free introductory online course of the same name.
She supervises masters-level Criminology students at the University of Glasgow and is accepting proposals from potential PhD students. Those interested in studying with her are asked to include both their CV and a short statement of research interests.