Las Limas Monument 1
Last Modified:

07 Jul 2017

Also known as: Señor de Las Limas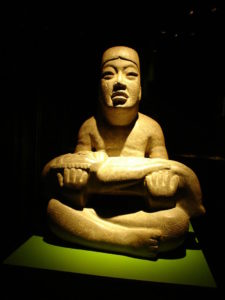 Well-known Olmec greenstone statue stolen from a Mexican museum and abandoned in a Texas hotel room after traffickers were unable to sell it. 
Discovery
On 16 July 1965, Severiano and Rosa Manuel Pascual, two children from the village of Las Limas in the Mexican state of Veracruz, were looking for a rock to break open fruit (INAH 2012). Digging around what they thought to be a normal stone, the children uncovered the face of the Olmec statue which would come to be known as Las Limas Monument 1 or el Señor de Las Limas (INAH 2012). These very young children alerted the rest of their village as they initially thought they had discovered a dead person (Reyes 2012). The statue was brought to the Pascual home and was used as an altar under the belief that it represented an apparition of the Virgin (INAH 2012).
Archaeologist Alfonso Medellín Zenil eventually moved the sculpture to the Museum of Anthropology at Xalapa (INAH 2012). He and his colleagues interviewed the children who described their find in detail and brought the archaeologists to the discovery spot. Archaeological excavations carried out on and near the find-site of the statue produced no notable archaeological remains (Reyes 2012).
The Statue
Las Limas Monument 1 is about 55 cm tall and weighs about 60 kg making it the largest known Olmec greenstone sculpture (Reyes 2013). It was probably carved during the Mesoamerican Middle Formative Period (1000 to 600 BC). The piece depicts a poorly-understood, controversial, and fascinating scene from Olmec mythology. A male youth, seated cross-legged, holds in his outstretched arms a limp and inert "were-jaguar" baby (a humanoid baby with feline facial qualities) as if offering it to something or someone (INAH 2012). Some interpret this scene, which is portrayed on other Olmec monuments, to be evidence of child sacrifice, however details of Olmec religious beliefs and practices are limited.
Of great importance are four incised depictions of deities on the youth's knees and shoulders. These deities are repeated on other Olmec monuments and sculptures and their presence in the iconography of this important scene is interpreted as an indication of their prominence.
Theft and Return
On 12 October 1972 (some reports say 1970, the date given by Mexico's INAH is used here), Las Limas Monument 1 was stolen from the museum at Xalapa and smuggled into the United States for sale on the market (Meyer 1974: 223). However, because this monument was well known and clearly stolen from a state museum, it proved difficult to sell. When a buyer backed out of the sale, the traffickers abandoned the statue in a motel room in San Antonio, Texas, where the police recovered it. The local sheriff contacted Mexican authorities and it was then returned to the museum at Xalapa (INAH 2012). Meyer (1974) notes that despite the importance of this sculpture, its theft and eventual recovery in the US was not reported in the English-language press.
Bibliography
INAH (2012) '47 Años del descubrimiento del Señor de las Limas', INAH Noticias, 23 July. Available at: http://www.youtube.com/watch?v=Jly39fsaL44. Accessed on 2 March 2014.
Reyes, Karina de la Paz (2012) 'Señor de Las Limas, pieza representativa del MAX', Universo 10(466), 9 January. Available at: https://www.uv.mx/universo/466/cultura/cultura_04.html Accessed on 2 March 2014.
Meyer, Karl (1974), 'The Antiquities Market', Journal of Field Archaeology, 1(1/2): 215-224.