Machaquilá Stela 2
Last Modified:

03 Aug 2020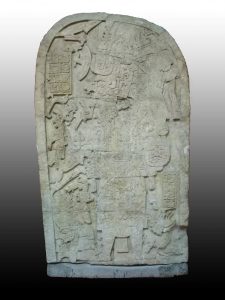 Maya sculpture looted from Guatemala and smuggled into the U.S. resulting in a ground-breaking court decision.
Machaquilá is a Maya site located in an isolated part of Guatemala's Petén department, about 45 km northeast of the site of Cancuén (La Porte et al. 2009). The site is a difficult site to access due to rough terrain and a lack of natural resources (Just 2007: 3). Its remote location appears to have buffered Machaquilá from the fallout of the endemic conflict of the Classic period, and the site experienced a brief florescence during 9th century AD in the wake of the Tikal-Calakmul Wars (Just 2007: 3). Afterwards it fell into decline along with the rest of the Petén, although the people of Machaquilá produced stela for nearly 40 years after other sites were abandoned (Just 2007: 3).
Numerous sculpted stones were found by archaeologists at Machaquilá, for example, Ian Graham found 17 stelas and six altars in the 1960s, but as of the time of writing there are no carved monuments at the site (La Porte et al. 2009). Many were looted during the endemic pillage of the Petén in the 1960s and 1970s and the rest were removed for their own protection by the Guatemalan government (La Porte et al. 2009).
Discovery of the site
Two Costa Rican brothers working for the Union Oil Company discovered Machaquilá sometime before 1961. Archaeologist Ian Graham contacted the men and they confirmed their discovery by showing him a carved stone they had brought from the site that was being using as a doorstop (Graham 2010: 250). In May 1961 Graham visited Machaquilá, which he named after the local river, and recorded the presence of stelas. In 1962 he spent considerably more time at the site specifically to record the various carved stelas via photographs, drawings, and latex moulds (Graham 2010: 254). Thus, Machaquilá Stela 2 was discovered by Graham who drew and photographed the sculpture in situ, establishing that it was, indeed, in Guatemala after Guatemala had declared ownership of all archaeological objects within its territory.
The Looting of Machaquila Stela 2
Unless otherwise stated, the following account of the trafficking of Machaquilá Stela 2 is derived from the memoirs of Ian Graham (2010: 436–438).
In 1971, Dr. William Bullard of the University of Florida contacted Ian Graham to inform him that Machaquilá Stela 2 had been looted, trafficked, and exhibited for sale in Florida. The stela had been bought from looters (who cut it to pieces) by Jorge Alamilla, a Belizean who was known to be involved in the antiquities trade, for around $3,000 USD. It was passed on to three men: Ed Dwyer, according to Graham the brother-in-law of the owner of a lumber company that operated in the Petén; Johnnie Brown Fell; and Fell's cousin Harry Brown, who were both in the shrimp-exporting business. The stela was stored in Fell's fish-packing plant in Belize City for a period of time (Hughes 1977: 149). The men moved the stela, which was in fragments, to Miami, Florida in a boat concealed by a shipment of shrimp. The fragments of the stela had been packed into boxes labelled 'personal effects' and marked with the address of restorer Clive Hollinshead in Santa Fe Springs, California (Hughes 1977: 149). Once in Florida, Hollinshead was brought in to restore the piece.
After the restoration, Fell and Dwyer bought a station wagon (Graham recounts that it was Fell and Alamilla, but the court record reports it was Dwyer), put the stela in it, and drove to New York City. They offered the stela to the Brooklyn Museum, to dealer André Emmerich, and then to dealer Leonardo Patterson (see: Maya Fresco Fake;  El Manatí Wooden Olmec Busts; La Mina). All three declined to buy it, but Patterson suggested they offer the sculpture to Marjorie Neikrug who owned a gallery in the city. While Fell and Dwyer were discussing the piece with her, the car containing the stela was towed away for illegal parking but they managed to retrieve it.
When Neikrug turned down the stela, the two men drove to Milwaukee, Wisconsin, where they offered it to Glenn Rittenour, a Methodist minister who later testified against them at trial. He, too, turned the stela down. Federal records indicate the men also stopped in Decatur, Georgia, and in North Carolina in an attempt to sell the piece. Fell and Dwyer continued their drive, eventually bringing the stela to Los Angeles where they sold it to the restorer Clive Hollinshead. The asking price for the stela during this journey is said to have been $300,000 USD (Meyer 1973: 33).
After uncovering this story via a series of well-placed telephone calls, Graham contacted the FBI who informed him that the stela could be recovered via the National Stolen Property Act's ban on the interstate transportation of stolen objects (18 U.S.C. 2314). Graham was told that at trial, it must be shown that the men in possession of the stela knew it was stolen and had transported the object from one state to another with full knowledge of this status. To secure this information, Graham asked a friend of his to pose as a potential buyer interested in Maya stelas. Hollinshead showed her Machaquilá Stela 2, which was in his garage at the time, proving that it had been transported, which provided enough evidence for the FBI to intervene.
U.S. v. Hollinshead et al.
On August 28, 1972 a federal grand journey indicted Clive Hollinshead, Jorge Alamilla, and Johnnie Fell on charges of conspiracy to transport stolen goods in interstate and foreign commerce and causing the transportation of stolen property in interstate commerce (Hughes 1977: 1949). According to the indictment, Hollinshead had a prior arrangement with Alamilla for the procurement of looted and smuggled Maya objects. The indictment stated that Hollinshead was on-hand in Belize during the smuggling process, as were unnamed Guatemalan officials who were bribed (Hughes 1977: 149).
In February 1973, U.S. v. Hollinshead et al. was tried in a Los Angeles Federal District Court. Graham, who was serving as a witness, was unable to watch the majority of the trial. However, he recounts that Ed Dwyer, who was one of the original purchasers of the stela while it was still in Central America, turned state's evidence and was spared any legal repercussions. Jorge Alamilla, who was not a US citizen, did not appear, presumably fleeing to his native Belize. The court found that Ted Wiener, a man based in Dallas and involved in the oil business, had financed Hollinshead's purchase of the stela in return for a cut of any profit from resale.
Hollinshead's seized records showed that another stela from Machaquilá was, at that time, in the possession of Harry Brown in Helena, Arkansas, but that stela had been mostly destroyed in the looting process having been broken into 25 pieces. It was impounded by the FBI in January of 1972 and was later identified as Machaquilá Stela 5 (Meyer 1973: 33). Allegedly this piece had been offered to the Denver Art Museum (Meyer 1973: 33).
On 14 March 1973, Hollinshead and Fell were found guilty of both counts and in 1974 the district court opinion was affirmed by the United States Court of Appeal for the 9th Circuit (United States v. Hollinshead, 495 F.2d 1154, 9th Cir, 1974; Hughes 1977: 149). Hollinshead was fined $5,000 USD, given a suspended sentence, and put on five years probation (Meyer 1973: 33). Fell also received a suspended sentence and three years probation.
Both Macahquilá Stela 2 and 5 were returned to Guatemala.
A groundbreaking case? A controversial ruling?
Some have cited U.S. v. Hollinshead as 'the beginning of American responsibility in dealing with the illicit traffic in plundered antiquities' (Hughes 1977: 150). However, the particulars of the case also signalled a clear need for further definition of issues related to international antiquities trafficking in US law. Hughes (1977: 50) notes that a key aspect in the conviction of Hollinshead and Fell was that the objects in question were 'stolen'. The men were charged with transport of stolen goods within the US. However, the original theft occurred in Guatemala and it was not against US law to commit a theft in Guatemala. Commentators wondered if an object that had been stolen in Guatemala should be considered 'stolen' within the US. In this case, the jury was instructed that the accused had to know that the stela was 'stolen', but the court declined to specify if the theft of the object had to occur within the US. In essence, the jury found that Hollinshead, as a restorer and dealer, must have known that the stela was 'stolen' in Guatemala, and thus found him guilty (Hughes 1977: 151).
References
Graham, Ian. (2010), 'The Road to Ruins', (Abuquerque: University of New Mexico Press).
Hughes, William J. (1977), 'United Stated V. hollinshead: A New Leap in Extraterritorial Appication of Criminal Laws', Hastings International and Comparitve Law Review 149–173. <http://heinonline.org/HOL/Page?handle=hein.journals/hasint1&div=13&g_sent=1&collection=journals#167>, accessed on 24 August 2018.
Just, Bryan R. (2007), 'Ninth-Century Stelae of Machaquilá and Seibal', FAMSI. <http://www.famsi.org/reports/01050/01050Just01.pdf>,accessed on 24 August 2018.
La Porte, Juan Pedro, Mejía, Héctor E., and Chocón, Jorge E. (2009), "Machaquila from a Regional Geographic Perspective", Symposium of Archaeological Investigations in Guatemala, 2004, FAMSI. <http://www.famsi.org/reports/03101/36laporte_mejia_chocon/36laporte_mejia_chocon.pdf>,accessed on 24 August 2018.
Meyer, Karl E. (1973), The Plundered Past (New York: Atheneum).
United States v. Hollinshead (1974), 495 F.2d 1154, 9th Cir. <http://openjurist.org/495/f2d/1154/united-states-v-hollinshead>accessed on 24 August 2018.