Peru v. Johnson
Last Modified:

21 Feb 2013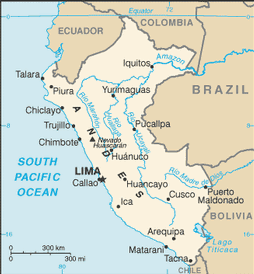 A civil suit filed against collector Benjamin Johnson in a US Court was ruled in favor of the defendant as the government of Peru could not prove that they were the legal owner of the objects in question.
In 1987 a large amount of material looted from the Moche site of Sipán, Peru, was trafficked into the USA by a smuggling ring orchestrated by a man named David Swetnam. Swetnam was convicted for his involvement in this operation, but was given what many felt was a light sentence. As it became clear that no further indictments were to be handed down in this case, advocates for the return of Sipán material to Peru filed a civil suit against Benjamin Bishop Johnson a collector, dealer, and authenticator of Pre-Conquest antiquities[1]. Johnson allegedly authenticated the shipment of Sipán material shortly after it entered the United States and purchased at least some of the items (Atwood 2004: 85). He later sold some of these items to collectors such as John Bourne.
The suit against Johnson was organised by a Los Angeles physicist named George Roberts with Noel Keyes, formerly of Pepperdine University, and Meryl Macklin of Heller, Ehrman, White & McAuliffe representing Peru's interests on a pro bono basis. Macklin eventually resigned from the case citing a difference of opinion with Roberts, leaving Keyes as the sole attorney. Their case hinged on the country of Peru proving that Johnson's collection was composed of stolen property. This claim was based on Peruvian Law No. 6634 of June 13, 1929 and Peruvian Law No. 24047 of 5 January 1985, which identify the Peruvian State as the rightful owner of undocumented Peruvian antiquities (Kobrinski 2011).
To fully establish that the Johnson collection was comprised of property stolen from their country, the representatives for Peru had to prove exactly which archaeological site the objects came from. They also had to prove that the objects left Peru after 1929 when the government laid claim to undocumented archaeological material (Merryman 1992). Peru lost the suit as Keyes was unable to prove to the satisfaction of Judge William P. Gray that the objects in question both came from Peru and were exported after Peru's ownership laws came into effect (Kirkpatrick 1992).
John Merryman, who spoke on Johnson's behalf during the trial, believes that even if Peru had been able to conclusively prove that the objects in Johnson's collection came from Sipán and had been exported after 1929, they may not have been able to distinguish 'theft' from 'illegal export' to the satisfaction of a US Court (Merryman 1992). While the US would enforce international claims of ownership (theft), they under no obligation to enforce the export laws of Peru at the time (illegal export).
Johnson died on 3 September 1990. Much of Johnson's collection was sold at Sotheby's New York shortly after his death. For example on 18 November 1991 (sale number 6239, Pre-Columbian Art), seven Peruvian pieces from Johnson's collection were offered for sale.
Shortly after the Johnson case, on 7 May 1990 the US imposed emergency import restrictions on 'culturally significant archaeological artefacts from the Sipán Region of Peru' under the Cultural Property Implementation Act and in accordance with the 1970 UNESCO convention (Alva 2001; United States of America 1990). This was expanded into a full, five year cultural property bilateral agreement between the US and Peru in 1997 which barred the import of all pre-Conquest cultural material, not just items from the Sipán region. This agreement was extended for another five years in 2002, 2007, and 2012.
References
Alva, Walter (2001), 'The Destruction, Looting, and Traffic of the Archaeological Heritage of Peru', in Neil Brodie, Jennifer Doole, and Colin Renfrew (eds.), Trade in Illicit Antiquities: The Destruction of the World's Archaeological Heritage, p. 81-96 (Cambridge: McDonald Institute of Archaeology).
Atwood, Roger (2004), Stealing History: Tomb Raiders, Smugglers, and the Looting of the Ancient World (New York: St. Martin's Press).
Kirkpatrick, Sidney (1992), Lords of Sipán: A True Story of Pre-Inca Tombs, Archaeology, and Crime (New York: William Morrow and Company).
Kobrinski, Daniel (2011), 'Illicit Trafficking of Cultural Patrimony and Legal Protection of Cultural Heritage in Peru', Prepared Report (Instituto del Peru).
Merryman, John Henry (1992), 'Limits on State recovery of stolen artifacts: Peru v Johnson', International Journal of Cultural Property, 1, 169-73.
United States of America (1990), 'Import Restrictions Imposed on Significant Archaeological Artifacts From Peru', (Federal Register Volume 55, Number 88), 19029-30.
---
[1] Peru v. Johnson, 720 F. Supp. 810 (C.D. Cal. 1989),aff'd sub nom.,Peru v. Wendt, 933 F.2d 1013 (9th Cir. 1991).