Maya Sculpture Seized in Brooklyn in 1999
Last Modified:

06 Nov 2023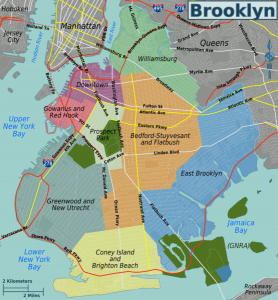 Large Ancient Maya pieced seized from a Brooklyn residential garage
On 12 November 1999, officers responding to an anonymous tip discovered a Maya sculpture within a garage at a home on Pitkin Avenue, Brooklyn, New York. (Jacobs 1999). The sculpture, which is described as weighing 500 pounds (Forero 1999) and being 3 feet long (de la Cruz 1999), depicted a jaguar holding a human head (or clutching a man in some reports such as Forero 1999). It was found wrapped in newspaper and packed in a wooden crate (Jacobs 1999) and authorities speculated that it had been stored in that location for a few months (de la Cruz 1999). The person living at the address, a renter, maintained that he neither knew what the sculpture was nor how it got there (Jacobs 1999). Further investigation confirmed that both the landlord and the tenants of the house were not involved with the sculpture and the police made no arrests (de la Cruz 1999; Forero 1999).
The circumstances of the anonymous tip were not released in contemporary reporting, but the police had been working on the case for several weeks before the raid. At the time of the seizure, they had already involved the Guatemalan government, who they believed to be the owners of the piece (Jacobs 1999). Once the piece was seized, it was identified by an unnamed expert from a local museum (Jacobs 1999). Guatemalan authorities could not determine the exact site that the piece came from at the time, but reported that that it was executed in a highland Guatemala style (Forero 1999). 
Works Cited
De la Cruz, Donna (1999) Mayan artifact found in Brooklyn Garage to be Returned to Guatemala. Associated Press. 13 December.
Forero, Juan (1999) Mayan Carving To Be Returned to Guatemala. The New York Times. 14 December. https://web.archive.org/web/20150527102311/http://www.nytimes.com/1999/12/14/nyregion/mayan-carving-to-be-returned-to-guatemala.html. Accessed on 3 August 2023.
Jacobs, Andres (1999) Mayan Carving in Brooklyn Thought to be Stolen Ruin. The New York Times. 13 November. https://archive.nytimes.com/www.nytimes.com/library/national/science/111399sci-arch-guatemala.html. Accessed on 3 August 2023.