Images of looting at Apamea added to Data – *Updated*
09 May 2013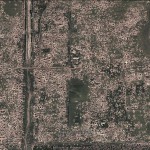 Trafficking Culture has been given permission to disseminate two images captured using Google Earth showing Apamea in Syria. 
The two images show the same archaeological site, the remains of the ancient city of Apamea, firstly as captured by Google Earth on 20th July 2011, and then on 4th April 2012. The scale of looting in between the months when the images were taken can be seen clearly.
The images, added to our ever-growing Data section, are reproduced with kind permission from Dr Ignacio Arce, Director of the Spanish Archaeological Mission to Jordan, who originally took the images from Google Earth.
*Update*
Following publication on our website of these images, further Google Earth images of Apamea, spanning from December 2003 to April 2012 have been sent to us for dissemination. These have been added to the Data section on the same page as the other Apamea images. Thanks to Daniel Pett from the British Museum for allowing us to share these images here.
If you have any information which you feel would appropriate for inclusion in the Data section of our website, please contact us to discuss.