New Researcher joins in January
14 Oct 2012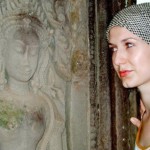 Trafficking Culture are really delighted to welcome Tess Davis, who will be joining the project as a Researcher in January 2013.
Tess has extensive experience of working in both archaeology and law, and is currently the Executive Director of the Lawyers' Committee for Cultural Heritage Preservation, based in the USA. She holds a Batchelor of Arts in Archaeology from Boston University, and earned a Juris Doctor from the University of Georgia School of Law. She is admitted to the New York State Bar, Third Department, and is a member of the New York State Bar Association.
Her research will focus on the laundering of antiquities, from their start in the ground through to their end point within private and public collections. This will focus primarily on the situation in Cambodia, where she has already carried out extensive research. Some of her recent research is featured in a Bangkok Post news report, in which she is also interviewed.
We are very pleased to welcome her to the team!