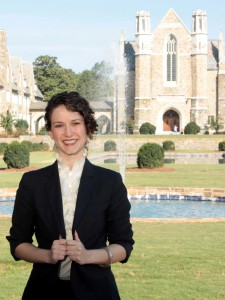 Tess Davis is an Affiliate Researcher in the Scottish Centre for Crime and Justice Research at the University of Glasgow.
Tess comes to this project from the Lawyers' Committee for Cultural Heritage Preservation — a not-for-profit institution based in the United States — where she was Executive Director until 2012. She previously worked for the nongovernmental organization Heritage Watch in Cambodia, first as Project Coordinator, and finally Assistant Director. Her career began at the Archaeological Institute of America.
For the past decade, Tess has devoted herself to fighting the pillage of ancient sites and trafficking of artifacts, particularly in Southeast Asia. She's conducted extensive research on the illicit trade in Cambodian antiquities. She also conceptualized and implemented a number of exciting projects in the country, including an exhibition at Angkor Wat about threats facing the temple, a hotline for the public to report archaeological discoveries or looting, and a children's book on preservation entitled "If the Stones Could Speak". More recently, Tess spearheaded the creation of a heritage law database, as well as a legal internship program there. Due to this and her other work, she has been interviewed by CNN, the New York Times, the Los Angeles Times, the Public Broadcasting Station (PBS), Voice of America (VOA), the Australian Broadcasting Corporation (ABC) the Phnom Penh Post, and the Cambodia Daily, among other national and international media outlets.
While at the University of Glasgow, Tess aims to better comprehend the laundering of antiquities, by tracing their journey from the ground in Cambodia, through the illicit and licit markets, to their stopping point in private and public collections. She will focus on a single style of statuary from a single site, Koh Ker, the brief capital of the Khmer Empire. Due to its remoteness, the temple complex was only "rediscovered" in the late 19th century and remained largely untouched until 1970, when Cambodia plummeted into decades of civil war, genocide, and foreign occupation. During that time, throughout the turn of the millennium, the site was heavily plundered. For these reasons and others, it presents an opportunity to supplement other studies in the field, ask broader questions about trafficking, and seek to answer them.
Tess graduated magna cum laude from Boston University with a Bachelor Arts in Archaeology and earned her Juris Doctor from the University of Georgia School of Law. She now serves on the Advisory Board of Heritage Watch and the Ocean Foundation and is Vice Chair of the American Society of International Law's Cultural Heritage and the Arts Interest Group. She is admitted to the New York State Bar, Third Department, and is a member of the New York State Bar Association.
Tess is the research lead on From Illicit to Licit: The Laundering of Looted Antiquities into Legitimate Artworks.